Posted: May 23, 2014 - 11:17am
Hilo girls basketball shows dedication on, off court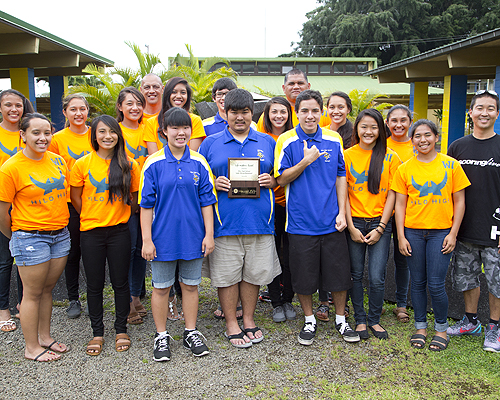 Hilo Lady Vikings basketball players and participants in the school's Special Olympics program pose for a picture.
Kalani Takase | SL
HILO, Hawaii — For as much time as the Hilo High School girls basketball team has put into improving on the hard court, there have been countless hours in the classroom that have proved just as important.
For the past few years, the Vikings have volunteered their time — recess, lunches, weekends — by spending time with the special education students on campus and participating in the Special Olympics Project UNIFY.
"When Project UNIFY came to Hilo High two years ago, I incorporated our girls' basketball team — not only as a community service project, although that was the reason at the start — but over the years that we've been participating with them, they've really formed some genuine friendships," said Vikings' coach Ben Pana, who also works as an aide in the special education class.
In early May, the team was selected as the spring winner of the Life matters award, which is sponsored by HawaiiUSA Federal Credit Union in conjunction with ScoringLive. The Vikings also received a $500 check toward their athletics department.
"I feel like this is a great accomplishment because we did a lot this year — on the court and off the court — and it feels great to be rewarded for what we did outside of basketball," senior point guard Amber Vaughn said.
Pana said his players conduct basketball clinics every Wednesday during their lunch hour and also participate in activities like bowling and track and field with the Special Olympics athletes.
"They have a partners' division, so we participate with those kids with intellectual disabilities," said Pana, who credited teacher Joann Nishimoto for supporting the program. "She puts together activities in the classroom and the girls are always volunteering their time. We're just trying to form friendships to include them with the rest of the general population on campus."
According to the Special Olympics website, Project UNIFY is an "education and sports-based strategy powered by an engaged youth community that increases athletic and leadership opportunities for students with and without intellectual disability, while creating communities of acceptance for all."
"We just help out and volunteer when they have their activities like bowling and all their rallies to spread the awareness of Project Unify and help people come together," said Vaughn. "It's really fun, because they're easy to get along with, so we just treat them like regular people and we build friendships with them."
Kaily Harris, a senior forward on the girls' basketball team, said she treasures the time with her classmates, especially after an exhausting game the night before.
"During recess and lunch, we'll go into their classroom and we'll go hang out with them because they're just great people to hang out with and they're really spirited and they just know how to make people's day," said Harris. "They're not judgmental, they're always happy people to be around with and they know exactly how to cheer a person up."
The feedback has been nothing but positive, according to Pana.
"The biggest response that I've been getting from them is that they wish they started this earlier," Pana said. "They enjoy this genuine friendship with these kids. They like being around them, they like participating with them. Even days that we don't do anything, they usually come by the classes at recess just to hang out, so it's a special bond that they have with these kids."
It's a special relationship that has seemingly benefitted both parties.
"I think the most important thing I've seen is the whole culmination of the program and how the girls have learned to communicate and figure out needs and discover what special-needs is like," said Jennifer Kurohara, whose son, Cullen, is a special-needs students. "The girls been very helpful, very supportive."
Pana said he felt it was important that he involve his players in more than just on-the-court activities.
"Basketball, to me, is more of a vehicle to help them prepare themselves for life and by creating different types of friendships and working with our kids, they really find a sense of purpose to do things off the court," said Pana. "That forms well-rounded people for our future community — community leaders, community contributors — so that's the reason for all of this."
Reach Kalani Takase at

[email protected]

or follow him on Twitter at @SLKalani.
Note: All comments must be approved by an SL moderator prior to being published.

May 23, 2014
11:17am
share on Facebook
post to Twitter
back to top