Posted: March 12, 2014 - 8:42am
Waiakea's Medeiros could be Hawaii's next big league star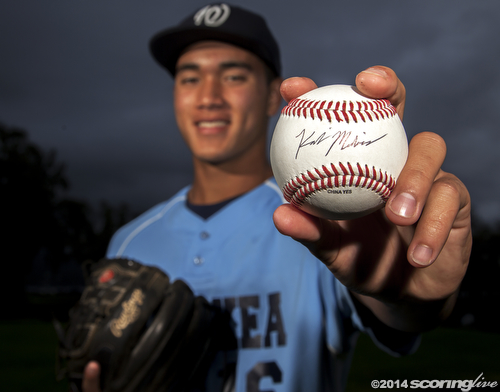 Waiakea pitcher, Kodi Medeiros, displays a personally signed baseball with his left hand.
Sean Nakamura | SL
HILO, Hawaii — This sleepy, bayside town on the East side of the Big Island has produced its share of talented baseball players. The likes of Onan Masaoka, Brandon Villafuerte and more recently, Kolten Wong, are the most notable names that come to mind.
In the not-so-distant future, Kodi Medeiros will probably be next Hilo boy to add his name to that list of former or current big leaguers.
Medeiros, a senior left-handed pitcher at Waiakea High School, has all the tools to become the next big thing in baseball out of the 50th state. The 6-foot-1, 190-pound Medeiros possesses a fastball that not only has been clocked at 95 miles per hour — remember he's a lefty — but has late movement that tails away from right-handed hitters and a wicked slider that scouts describe as even better than the fastball. Add all of it up and Medeiros is looking like a probable first-round pick in this June's Major League Baseball First-Year Player Draft.
Despite all of the attention — and there has been lots from both colleges and professional scouts alike — Medeiros is as humble as they come.
"It's been a really humbling experience for me to get all this attention, but I just try to focus on the goal and my dream and try not to get too ahead of myself," Medeiros said. "I just try to get better everyday."
Medeiros burst onto the scene at the 2012 Wally Yonamine Foundation/Hawaii High School Athletic Association Division I Baseball State Championships at Les Murakami Stadium on the University of Hawaii campus. The then-sophomore pitched a three-hitter with eight strikeouts to unseat reigning champion Pearl City in a semifinal game — older brother, Korin, had the game-winning RBI single to help Waiakea win in walk-off fashion — and one night later, Medeiros got the final three outs to earn the save in a win over Baldwin that gave the Warriors their first state championship in school history.
In his much-anticipated junior season, Medeiros was never quite at full strength due to a muscle strain in his elbow — an injury that he says he has fully recovered from. His time on the mound last year was limited as a result.
"That really made me work hard to just be able to get back on the mound and throw like how I did during my sophomore year," Medeiros said. "It just made me realize that after going through therapy, that I had to do all these exercises to keep my arm in shape. After coming back it felt really great to come back to what I do best, which is pitching, and I'm just glad I made it back healthy to 100 percent."

One month after the season ended, Medeiros showed off his stuff at the Perfect Game National Showcase in Minnesota. Later that summer he participated in the Area Code Games and the Perfect Game All-American Classic events in Southern California.
"Everything's picked up since that showcase and then after the Area Code Games and the Perfect Game All-American Game it's just been crazy ever since," Medeiros said.
The top 51 high school prospects in the country were invited to the All-American Game at Petco Park, home of the San Diego Padres.
"It was really fun being able to pitch in a major league stadium while I'm still in high school," said Medeiros, who recorded two strikeouts in one inning of work. "At first I was nervous, but after I got warmed up, I was more relaxed and just focused on throwing strikes."
Although Medeiros' stock has sky-rocketed in the past year, the 17-year old — who's committed to Pepperdine — says he is still undecided whether he will sign professionally or attend college.
"I'm still not sure," Medeiros said. "I'm just going to wait and see. School, and getting an education is also very important to me."
Medeiros, who in his spare time loves to spearfish and hunt for birds, has had to balance school, baseball and being a teenager with all of the attention he has received.
"Sometimes it can be overwhelming, but there's times when I need to be serious and times when I can have fun," Medeiros said. "I know my main focus is baseball and school, so I make sure those things come first. Sometimes that means having to sacrifice going out, hanging out with friends, but it's all good in the end."
Medeiros said he stays humble by staying hungry. His father, Robert, says it's a quality that was instilled in his son from the first sport he took up: judo.
"I just don't let it get to my head," Medeiros said. "I just go out there and think that there's somebody better than you or somebody that wants to be in your position, so you've got to work hard to maintain that and make sure that person doesn't overtake you."
As for what he'll be doing during the June 5-7 draft?
"I definitely will be with my family, but I don't know where I'm going to be on draft day," Medeiros said.
MLB typically invites players projected to be first-round selections to New York City for the draft.
If he's not in the Big Apple, you can be sure, Medeiros will be in his hometown of Hilo, which he's come to appreciate for his own reasons.
"Growing up in Hilo, it's a small town, but everybody knows who you are and if you do something good or bad people will find out," Medeiros said. "I think that's a good thing; to make sure as you go away from this island, if you do something bad, people are going to find out and even though its a small place, I still think it helps you grow as a person for the real world. "
Wong, who starred at the University of Hawaii and is now slated to be the starting second baseman for the St. Louis Cardinals, was drafted 22nd overall in the 2011 draft. Medeiros, who has been projected as high as a top-15 selection in some mock drafts, will likely become the highest draft pick straight out of high school from the 50th state — a distinction that has Medeiros humbled at its possibility.
"When I go out and play in the mainland during a showcase or something, I know that I'm representing the Big Island, my family — especially my parents — my school, the state of Hawaii and I just want to make a good impression for everybody all around," Medeiros said.
His baseball talents have already taken Medeiros to various parts of the country, but he knows where his heart will always be.
"I know in the end, I'm going to come back to Hilo eventually," Medeiros said. "I grew up here, I have a lot of good memories over here. I really love the life we live over here, but I'm excited for what my future may hold."
Reach Kalani Takase at

[email protected]

or follow him on Twitter at @SLKalani.
Note: All comments must be approved by an SL moderator prior to being published.

March 12, 2014
8:42am
share on Facebook
post to Twitter
Kodi Medeiros, a senior left-handed pitcher at Waiakea High School. Medeiros possesses a fastball that has been clocked at 95 miles per hour.
Sean Nakamura | SL
Kodi (left) and Robert Medeiros (right) pose together at Lili`uokalani Botanical Gardens in Hilo, HI.
Sean Nakamura | SL
back to top