Posted: December 2, 2013 - 9:08pm
Kalaheo's Harrison, Hilo's Kelii collect weekly honors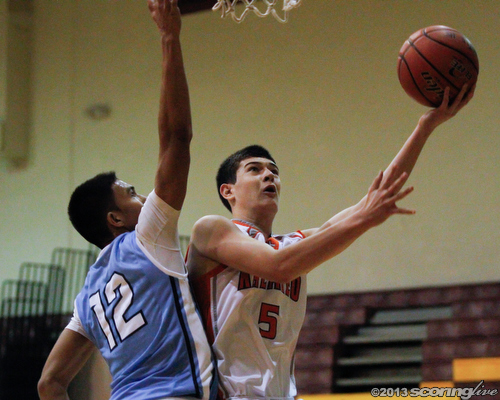 Kalaheo's Kupa'a Harrison had 15 points, six rebounds, two steals, and assist and a blocked shot against Saint Francis.
Kristen Izumigawa | Special to SL
ScoringLive staff
Male Athlete of the Week: Kupaa Harrison, Kalaheo basketball
What Kalaheo accomplished over the last two years was nothing short of remarkable. After winning the Division II state title in 2012, the Mustangs made the jump to Division I in 2013 and overcame all odds, winning the state championship over Maryknoll with the core of seniors Josh Ko, Shem Sukumaran, Derick Morgan, Kalei Zuttermeister, and sophomore Kupaa Harrison. All but Harrison has graduated, so it's no secret that he is now the number one guy on the team.
Harrison, now a junior, has responded well to the added expectations, helping the Mustangs go 5-0 in the preseason so far. He scored 15 points with six rebounds, two steals, an assist and a block against Saint Francis in the Castle Basketball Invitational finale Saturday night.
"Call me a homer but he's probably the best guy in the state along with someone like (Maryknoll's) Kaleb Gilmore," Kalaheo coach Alika Smith said on Harrison. "He's going to have to lead the team."
Smith also says that Harrison's nickname on the court is "Coach", a testament to the effect that Harrison has on the hardwood floor.
"He's a born leader," Smith said praising Harrison. "Having him on the team (with) his basketball savvy goes a long way, especially for the younger kids."
Even though he was just an underclassman in Kalaheo's championship runs, Harrison acknowledges the extra responsibilities he must take on if the Mustangs want to make it three in a row.
"I just (need) to lead (the team)," Harrison elaborated on his role this season. "We lost (about) 12 seniors (to graduation), but we had a good junior varisty team (last year). There are some guys that came up that are pretty good. My job is to give them the experience that I had last year and to try and lead them in the right direction."
Harrison was dominant early in the game, showcasing his versatility by scoring four of the Mustangs first eight points. He scored the first bucket of the game by staying active in the paint, putting back a teammate's miss for two. His second field goal of the game came on a textbook fast break opportunity off of a steal by point guard Kekai Smith. Harrison was also able to dish it out to Zach Marrotte on the baseline after getting dribble penetration in the lane in the scoring stretch.
The Saints tough, physical defense kept them in the game all night long, prompting Harrison to go into takeover mode to close the first quarter. Harrison went coast to coast on two straight possessions, nailing a floater on one attempt and drawing the foul on another. Harrison's seven first quarter points gave the Mustangs as 13-10 lead after one period of play.
Saint Francis keyed on Harrison defensively in the second quarter, not allowing the junior to score a single point until about three seconds left in the half. However, he was still able to be effective elsewhere by playing defense and setting up teammates with the assist. Harrison's runner through contact just before the end of the first helped the Mustangs reclaimed the lead from the Saints, 22-21.
Harrison's assisting ways was present early in the third, with Kela Thomas going to the line after Harrison found him off the double team. He also started a fast break opportunity for Smith and Thomas after getting a steal on the defensive end. Even though he only scored one point in the quarter, it wasn't without excitement. On one defensive possession, Harrison denied a Saints' shot attempt in the lane and got the rebound on the follow, prompting Harrison to go coast to coast on the fast break to draw a foul.
The fourth quarter was a battle between Harrison and the reigning Division II Interscholastic League of Honolulu player of the year in Matthew Nuumanaia. The two scored five points each while guarding each other. Harrison got his first point of the fourth quarter by going right at Nuumanaia and drawing the foul to send him to the line. Harrison's scoring concluded by hitting his fifth field goal and knocking down two late free throws to ice the game for the Mustangs, edging the Saints 41-40.
"I did alright," said Harrison after the game. "I didn't shoot well, but as a whole team we finished when we had to. We have a good chance to be successful in the OIA (this year)."
-Michael Lasquero

Female Athlete of the Week: Cierra Kelii, Hilo basketball
For some time now, the Konawaena Wildcats have been the class of girls' basketball on the Big Island. Well, the Hilo Vikings might have something to say about that this season.
Hilo is making an early splash with a 6-0 preseason record, including wins over state-tournament qualifiers from a year ago Maui, Mililani, Kamehameha-Hawaii and most recently Iolani. The Vikings beat the Raiders, 58-48, Saturday to claim their own tournament at Kawananakoa Gym in Keaukaha.
"As far as progress right now, I think they're kind of exceeding my expectations," Hilo coach Ben Pana said. "We did play some quality opponents in our first six games and it's been a good preseason for us to see where we're at. Those teams are consistently in the state tournament, so it's been a good measuring stick for us."
Sophomore guard Cierra Kelli was one of four players in double figures against Iolani with 10 points and was named Most Valuable Player for the tournament.
"She played well over the tournament — she's like my super sub off the bench," Pana said of Kelii. "She played awesome defense the whole weekend and that's why she's my first person off the bench."
Kelii was a freshman on the Vikings' team that finished third in the state tournament last season and has upped her game during the offseason, according to Pana.
"Over the offseason workouts, Cierra probably had the biggest gains as far as improvement in her game," Pana said. "Last weekend, she played good defense like always, but she was also able to find open spots on the court where her teammates could find her."
Pana says this year's squad has the ability, but maybe more importantly the experience, to make a run at a Big Island Interscholastic Federation title and possibly a state championship.
"This is a real special team in terms of the way they work together," Pana said. "They've been playing together in club ball and age-group ball since they were seven years old so they know each other like the back of their hand and they have developed a special connection over the years."
Last year's success has opened the eyes of Pana's players that they can compete with the best teams in the state.
"They're trying really hard to improve from where we finished last year," Pana said. "The girls set goals for our team and they want to take it to the next level. We're trying to them to baby steps throughout the season up to the ultimate goal of a state championship, but their work ethic and the commitment to the program and each other has been great. They have a whole different mindset with this team this year."
The Vikings are loaded with talent, including Pana's daughters Alexis and Aliyah, who along with Sharlei Graham-Bernisto, were named to the all-tournament team last week. Other players that Pana will look to for contributions this year are Kily Harris, Amber Vaughn, Alyssa Perreira, as well as Chailey Cabales, who Pana calls the quickest player on the team.
"My daughters and I are always talking basketball at home and the other players are real athletic, but their mentality and understanding of the game has really improved," Pana said. "That includes Cierra, whose basketball IQ has grown. She really understands the game now."
Pana knows however, that the road to a league titles goes through Kealakekua.
"Until we knock Konawaena off the top of the mountain, it's their league right now," Pana said. "We're working toward that goal of trying to dethrone them this year."
Hilo returns to the court Tuesday with its BIIF opener at Hawaii Prep before participating in the Wildcats' preseason tournament this weekend. The Vikings play Honokaa Friday before a showdown against another state-tournament team from a year ago, Lahainaluna Saturday.
"This weekend should be another good measuring stick for us, but we're looking forward to it," Pana said.
Next week Hilo will participate in the Iolani Classic on Oahu.
-Kalani Takase

BOYS BASKETBALL
Josh Burnett, Maryknoll — Scored 23 points in a win over Waianae and 30 points in a win over Aiea

Kekoa Fields, Mililani — Scored 18 points in a loss to Moanalua

Kaleb Gilmore, Maryknoll — Scored 22 points in a win over Waianae and 24 points in a win over Aiea
Antoine Hines, Moanalua — Scored 17 points in a win over Mililani

Ranan Mamiya, Saint Francis—Scored six points with six steals, five rebounds, and four assists in a loss to Kalaheo
Matthew Nuumanaia, Saint Francis — Scored 16 points with six rebounds, two blocks, one assist and one steal in a loss to Kalaheo

Aaron Stuart, Moanalua — Scored 18 points in a win over Mililani

Kamakana Winquist, Maryknoll —Scored 15 points in a win over Waianae and 20 points in a win over Aiea

GIRLS BASKETBALL
Riana Arima, Kamehameha-Hawaii — Scored 16 points in a win over Pahoa
Makamae Gabriel, Kamehameha-Hawaii — Scored 27 points in a win over Pahoa
Sarah Liva, Mililani — Scored 17 points in a win over Konawaena
Markayisha Masani, University High — Scored 17 points with 11 steals and three assists in a win over McKinley
Jazmayne Williams, McKinley — Scored 18 points with three assists, one block and one steal in a loss to University High
Note: All comments must be approved by an SL moderator prior to being published.

December 2, 2013
9:08pm
ScoringLive staff
share on Facebook
post to Twitter
back to top